Makes Bud Better
Makes Bud
Better
What if I told you that bud gets better? Introducing Bud Love! It's not cannabis, but a Premium Herbal+ Mixer designed to be combined with your favorite strains and enjoyed together, like the mixer in a cocktail – only for flower.
Cannabis & Nicotine Free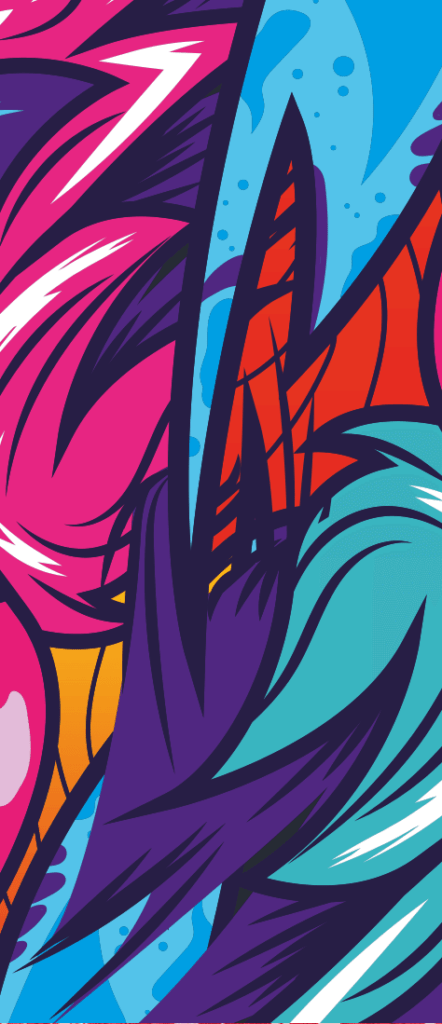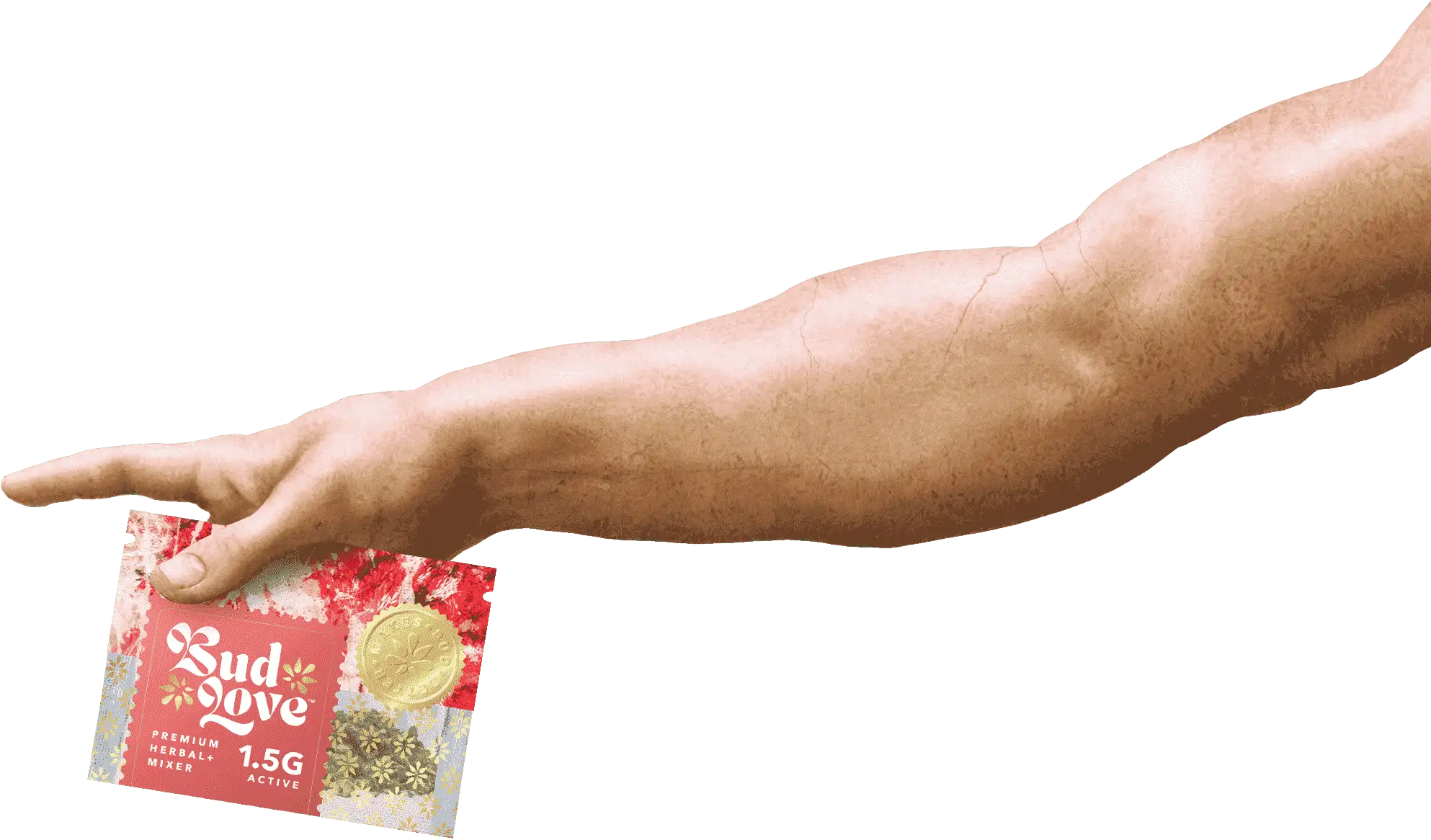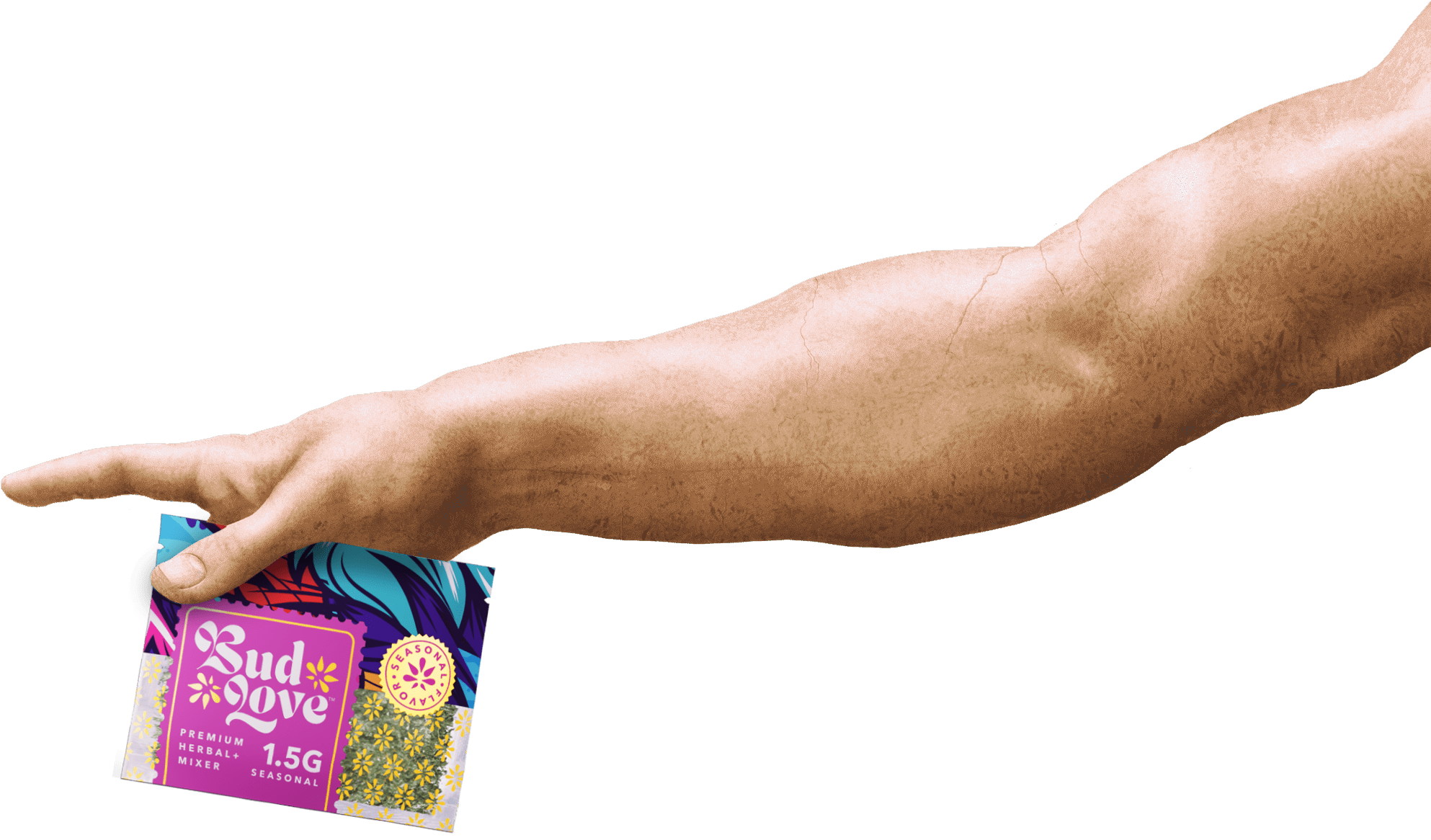 Our Story
We were inspired to create a product that Makes Bud Better! Derived from nature, our herbal mixers improve your experience, complementing your favorite strains and bringing out their best qualities. That's why 8 out of 10 tokers prefer flower with Bud Love.
Custom Buzz
Mix 50:50 to find your zen. Add more to get social or focused.
More Happy
Feel more relaxed and mellow, not anxious or paranoid.
Silky Smooth
Enjoy a good smoke with no irritation or coughing.
Bud Longer
Make your flower go further and last even longer.
Different Strokes For Different
Tokes
We recognize that each person is unique, so we created a range of scents for you to pair with your favorite strains.

Feeling The Love
I was skeptical at first, I love the taste of kush and I didn't want it to be drowned out, but it really just enhances the taste and the high, and saves you flower while doing it. Very impressed and will definitely buy again.
Denver, CO
I love your products and keep recommending to my friends!
Westfield, MA
It was an awesome smoking experience. I don't think I will be smoking a joint without it going forward.
New York, NY
I was skeptical at first. Boy was I surprised when I noticed the difference after the first puff! Not only is my coughing lessened while smoking, I have noticed less coughing in general. Joints smoke slower, the flavor is better and the effects are noticeable. Due to the amount I smoke, I can't go 50/50, but even a small amount makes a difference!
Portland, OR
Helps make harsh weed a lot smoother and I still get just as buzzed but without the anxiety. I would definitely smoke this mix again.
San Diego, CA
I'm a fan of the Marshmellow vibes!
Gresham, OR
I was first struck by the amazing aroma of Bud Love. It smells even better than the usual flower I get at my dispensary!
Tulsa, OK
I was able to try this product in another state and WOW is this a game-changer! And I love how it's made from natural herbs, terpenes, and CBG! The tropical shipwreck enhanced my cannabis in all the right ways- smell, flavor, and feeling.
Chicago, IL
Budlove has changed my smoking game. I can inhale longer and my bud actually does last longer along with my buzz.
Glendale, AZ
I was skeptical when I received mine, but I was very pleasantly surprised to find that this works! Normally this kind of stuff isn't "real" or doesn't work and is just a cash grab, but this is different. I love the apple scout cookies, and I'll be trying a mixer for hybrids next. You really won't need much by the way!
Las Vegas, NV
If you've not heard of Bud Love, you're missing out!! No more worrying about smoking a joint and having it burn all over on you! Well look no further, Bud Love takes care of that and also makes it a very pleasant smoke!! I hate wasting money and Bud Love came up with a game changer!! Try it out for yourself, you won't regret it!
Seattle, WA
I like how well it burns and the smell is super tasty.
Burien, WA
I'm never going back to weed without Bud Love.
Dallas, TX
This stuff is amazing. Got my kit yesterday and tried it. My high was intensified and the relaxation was amazing. Will be reordering soon. It helps stretch the flower I take for medicinal purposes. It works and isn't some fluke.
Morgan City, LA
I love researching smokeable herbs and terpenes to enhance my flower. I came across this product and I'm in love. I add it to cones and dry herb vapes. I work at a dispensary and I recommend it to anyone I can!
St. Louis, MO
It amazes us how sweet your joint taste when mixing it with bud love! Another thing we love about mixing is that it's not as harsh.
Chicago, IL
It's smooth. It's easy to use. For me, it enhances the pain relief I get from the THC. The buzz is good too!!
Sheboygan, WY
When I consume cannabis I usually have some type of anxiety/paranoia and for this reason – don't consume much. I smoked a pre-roll with Bud Love and it was an awesome experience! The flavor was amazing and there was no anxiety – just a mellow feeling and really enjoyed the effects of Bud Love and cannabis together. Will definitely be getting more!!
Boston, MA
Tasty flavor, and the smoothness is perfect to enhance the smoking experience without any harsh coughing. Absolutely will purchase again and again!
Radcliff, KY
If you don't love Bud Love, your buds don't love you. That's just science.
Seattle, WA
Bud Love (BL) has earned a loyal customer and I will be telling others. I ordered the Grandaddy Purple (which came in a terrific storage tin) and the small Dutch Treat pouch. Both products turn medium-quality bud into high-quality smoke. Smooth hits, longer lasting effects. Customer service is out of this world. No BS. As advertised.
Nashville, NC
Really enjoyed the product. Smoking bud that's too strong is no longer enjoyable for me. This is an elegant solution. 10/10 would recommend.
Miami Beach, FL
I recently tried BudLove's Neutral Mixer and I was thoroughly impressed. The flavor pairs well with indica strains and it brings out the best qualities of the flower. It's not too overpowering or harsh, but it's definitely present and adds a nice depth to the overall smoking experience. I highly recommend giving it a try and I will be trying the other flavors in the future.
Austin, TX
I love this idea and I think that this is an amazing product that will appeal to everyone.
Oklahoma City, OK
Tropical shipwreck is amazing!! The taste and the feeling!
Big Creek, KY
I've seen a lot of "new things", most I don't like, but I find this product exciting and effective. I would definitely recommend.
Helena, MT
I had pretty much no expectations for this, but was way too curious to try. I'm so glad I did because I'm loving them! Definitely alters the normal feeling I get with flower- more relaxed and calm. And I'm not coughing up a lung anymore. That's a win-win for me!
Sharon, PA
It makes the weed better and the high is longer
Brooklyn, NY
The product worked as advertised. It smoothed up some very harsh flower and made it much more enjoyable. I must try the other flavors. I will be a customer again.
Porter, TX
Bud Love is a solid product. I tried it on a whim and I ended up loving it. I haven't not used it since I got it, and it's truly an enhancer to every roll. If you have the extra money, try it. You won't be dissapointed.
Erlanger, KY
I love this product. I'm a fairly heavy weed smoker, but hate the constant cough I have from it. Within using Bud Love once, my cough was gone! I have no scratchy throat, and it doesn't take away from the natural effects of THC. If anything it enhances it. Seriously a wonderful product. Their customer service is awesome too.
Brighton, CO
To be honest I was skeptical at first but I did my research and this stuff is safe and extremely amazing. I love it.
Mohegan Lake, NY
My first experience with Bud Love was surprisingly good. It was smooth and I could immediately taste the terpenes. I can't wait to share with my friends.
Austin, TX
Over the last few years I've been doing this herb mixing at home now I dont have to worry about finding fresh herbs, Budlove saved me! I love mixing herbs into my daily smoke! This helps balance the THC and SUPER extends the time my green lasts both with a slower burn and longer time between restock…such a huge win!
Frisco, TX
This product is amazing. As someone who struggles with anxiety, I occasionally get jittery and anxious when toking. But this has changed that completely. I can chill completely with no worries, or I can mix more and feel so focused. All with a really clear mind! Bud Love has a fully dedicated customer in me! Can't wait to try more!!
Williamsville, NY
Tastes good and the vibes are so nice! Thank You for sharing the BudLove 💚
Chicago, IL
Honestly, I was surprised when I found out about this. I never heard of a mixer aside from the typical tobacco and this is a great alternative. I love the fact that it's natural, the terps and most of all just the way it smokes when it's mixed. I would recommend this to any smoker looking to try something new and spice things up. Bud Love is the future for sure.
Bronx, NY
I love the smell and the taste, it really does pair well with the recommended strains per package. I use a pipe (bong) and it just chills out the high so much so that I'm actually able to enjoy the high from a sativa instead of getting super anxious. The variety pack is perfect imo for just trying out. Will be buying more soon!!
Eugene, OR
I love Bud Love! Best find of the year! I use cannabis to manage a medical condition, and Bud Love gives me the ability to utilize flower throughout the day without experiencing anxiety or being impaired. I also love smoking it on its own.
Denver, CO
I bought this as a gift for my husband who really enjoyed it! It lessened the usual smell that comes along with smoking as well as improved the taste, plus he was able to smoke less than usual with the same results. We have already placed a second order!
Enfield, CT
I love Bud Love because, I suffer from anxiety, I'm always monitoring the thc levels before I buy cannabis, now it doesn't matter, because I have a wonderful herbal mix to supplement my mix, if I so choose. The result is a nice high without the extra nervousness i may feel with straight cannabis. Bud love is a great addition to my smoke sessions.
Astoria, NY
Can't go wrong. Best experience everytime. Really good stuff
Pahrump, NV
Very smooth and made for a great high with less material.
Houston, TX
This is PERFECT!!! I used to roll spliffs but don't like that anymore. I needed something to 'cut' my Js so I could enjoy them more evenly and slowly. I liked all the flavors I tried so far and I've been telling all my friends to give it a try.
Austin, TX
Fantastic!! Cannabis always made me extremely worried and anxious and bud-love actually stopped that altogether, while giving me the relaxed buzz and body relaxation that I needed for my anxiety disorder. I won't smoke again without bud-love. Incredible product. Not to mention the customer service is terrific as well. A+
Pittsburgh, PA
Great product! So I did a test first I tried my bud WITHOUT Budlove. I coughed, teary eyed all that..
Then I after a bit I tried it WITH Budlove and no cough or throat irritation, the high felt idk how to explain but cleaner ? Deeper? I love the Tropical Shipwreck!
Durham, NC
The Super Lemon Haze surprised me a bit. It made the Indica's smoke much smoother, it had added a very nice lemongrass taste to the profile and produced way less coughing. The intoxicating effects of the marijuana seemed to be slightly boosted as well. It was a pleasurable and positive smoking experience.
Portage, MI
Apple Scout Cookies is highly recommended for Indicas. Tastes great and nice smooth smoke.
Westfield, MA
I tried the sweet package and loved all 3 flavors! It not only added flavor but also helped with the cough I always have when smoking. Genius product! I highly recommend it and will purchase again!
Rocky Mount, VA
I recently unknowing purchased some crappy delta 8 and added Super Lemon Haze !! FANTASTIC it saved my smoke, I definitely will order again !! KEEP ON KEEPING ON !
Bay Minette, AL
This is a genius product! I can finally enjoy my favorite bud strains without getting uncomfortably high or feeling like I'm burning my throat. Adding Bud Love makes the smoke smooth and even adds a nice subtle flavor. And since the mixer is so much cheaper than the flower, I'm saving a lot of money. I'm turning my friends on to it too and everyone loves it! I no longer want to smoke a joint without it.
Northville, MI
Love the Bud Love! Adds great flavors, enhances the buzz, and stretches your supply. Definitely smoother tokes!
Canaan, NH
I like it cause it keeps me from coughing and it stretches out my stuff.
Covington, KY
Add Love
Bud Love is made by infusing ancient herbs with natural plant extracts and precious cannabinoids to make your bud better. Our unique blends allow you to craft a happier, smoother and more personalized experience. Mix with your favorite flower and enjoy!
Watch Video
Learn More
Love bud love?
Leave a review or just tell us directly what you think.